Write Honey is a free alternative to 750 Words.
Hello, writer! If you're just looking to start using a free 750 Words alternative and don't care to know the backstory, then read no further. I won't judge. Really.
Happy writing!
Here's what Write Honey looks like in action.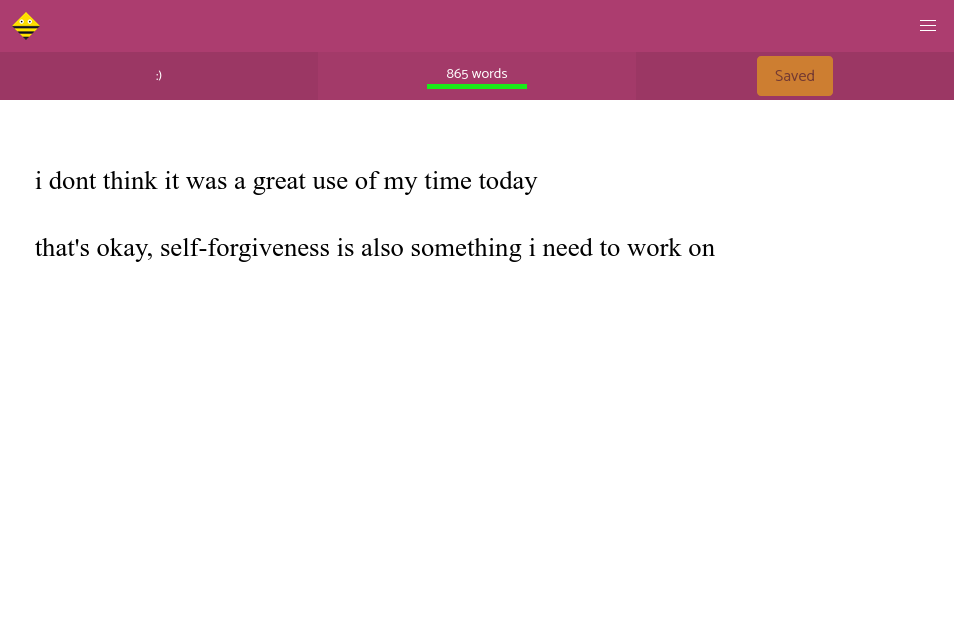 Alright, I'll bite. Tell me more.
Let me start by stating the obvious: 750 Words is excellent software created and managed by good people. They've done wonderful things for the free writing community and the writing community as a whole, and for many years after launching, they offered their service for free.
And even when they found that they had to start charging to keep their servers running and to continue providing their service, any user who signed up for their software until that point was gifted a premium account for life.
So given their contributions to our niche as well as their generosity, I'd say it might be worth considering paying for their service if you can afford it.
And what if I can't or don't want to pay?
If you can't or don't want to pay for 750 Words, I can totally understand because I've been there.
In fact, it was when I was dead broke and living in a tiny 8-square-meter room in a shared flat in Berlin in 2016 when I learned about the process of free writing through 750 Words. To say the least, my mental health wasn't in the best shape it had been in during this period of my life.
Always a big believer in the benefits of other forms of reflection like meditation, I tried out 750 Words and took to it right away. I never build up a massive streak, but I did see a very clear benefit when I'd write: my thoughts became tangible and visible.
While I like meditating and reflecting in general, while doing those activities, thoughts would come and go like a leaf in a river would. Namely, I'd find myself able to concentrate on a thought temporarily but knew it would pass by before I could understand it at a deeper level.
But when I'd write, it's like the leaf would come out of the river and into my hand. It became something I could dwell on, poke around, smell, taste, and scrutinize until my eyes dried.
Once I ran into the paywall at end of the trial, however, I knew that I wasn't able to shell out the cash for it. Not at that moment in my life, at least.
And I also knew that I wasn't the only person to encounter that same situation. I decided then and there that I couldn't let the benefits of free writing elude humanity for a reason as silly as money, and built the first prototype of Write Honey at the end of that year.
Since then, we've grown to collect recognition from top universities and organizations around the world:
That's a nice story and all, but let's get real: why should I choose Write Honey as my free alternative to 750 Words?
If I could give you three reasons to choose Write Honey as a free 750 Words alternative, it'd be these:
1. It's Free
Write Honey is proud to be free, for everyone, forever. We believe the power and benefits of free writing should be available to every person in the planet.
2. It's Simple
Just sign up and start writing. You'll always be able to access all of your content for all of time.
And whenever you'd like, you can download all your writing and delete your account without any questions.
3. It's Secure
With Write Honey, the only eyes on your content are yours. We find anything else flat out wrong and, unlike other providers, would never even consider letting third-parties touch your content. We respect the writer, plain and simple.
🇩🇪 Additionally, our servers are based in Germany, whose strictness around data privacy ensures that your data remains yours and no one else's.
Whichever platform you choose, please give it an honest effort.
The benefits of free writing are numerous, and I can't stress enough how a seemingly simple activity such as free writing can make a tremendous positive impact on anyone's life.