Your habit of 750 words a day starts here.
Or however many words you want to write. That's completely up to you. What matters is that you build up your habit, because there are so many benefits associated with having a writing habit, and that's exactly what Write Honey exists to help you gain.
Write Honey in action.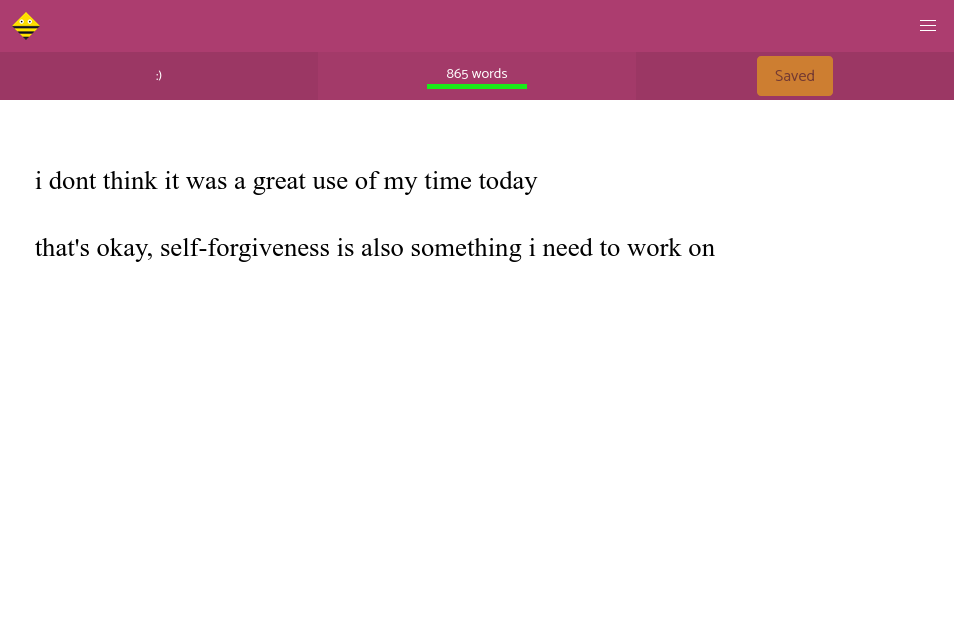 Sunshine for your cloudy mind.
Those thoughts that have been swirling around in your head? They need an outlet. Stop living with this stress and declutter the mind with Write Honey. Forget about spelling and grammar - just jot the thoughts down and take a look at them once they're brought into the world to make more sense of them.
We take your trust seriously.
All of our technology is based in Germany, which has some of the strictest privacy laws in the world. On top of that, Write Honey is built with strong encryption, because your writing is yours and no one else's, and that's how it should be!
Questions?
What Is Write Honey?
Write Honey is a free online tool that helps you jot down everything that's on your mind. Doing this is beneficial for many reasons:
You think critically about how to word thoughts in your brain. This makes your thoughts more coherent.
You may encounter something bothering you that you weren't conscious of. You become more aware of yourself.
You think about the important things running in your mind and fill in details and create goals. You become more productive.
How Does It Work?
You sign in and you write. Then you keep writing until you reach your word count goal, which is 750 words by default and completely customizable. Then, the next day, your canvas is wiped clean and you do the same thing again.
Are My Posts Private?
Yes! Therefore, you are strongly encouraged to not feel pressure to make sense or be grammatically correct.
What Happens to My Old Posts?
They're with you as long as you keep your account and get deleted only when you delete your account.
How Much Does Write Honey Cost?
Write Honey is completely free, and will always be free to write in and mentally declutter. A premium version may appear at a later date.
What if I don't want to use Write Honey but still want the benefits of free writing?
There are other wonderful services like SomeDailyWords and otherwise, notebooks and loose pieces of paper are also wonderful ways to free write.
Who Built Write Honey?
Write Honey is a labor of love from the team at Elbower.